Fifty Nights of Naughtiness
$49.99
Explore uncharted territory with Fifty Nights of Naughtiness from Creative Conceptions, a Fifty Shades of Grey-themed bedroom game that challenges couples with arousing ideas, adventures and kinky surprises on a scale from vanilla to down right naughty. Including 50 'invitations' to play that range from virginal white to seductive black, each player takes turns rolling the die to determine which colour envelope to open. Roll a yellow and you get to decide which shade you'd like to reveal. Upon opening the envelope, you'll find a task at hand that indicates who will take the submissive and dominant roles, involving anything from light spanking to rougher, salacious play. 
Brand
Creative Conceptions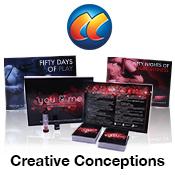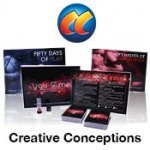 Only logged in customers who have purchased this product may leave a review.